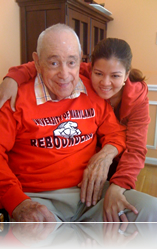 We strive to offer only the best for you and your loved ones. Our home is a peaceful environment where residents enjoy the care and attention fit for individuals in their golden years. You can rest easy when your loved one is under our care.
In our home, residents find time to relax together with their families and the caregivers. With proper care and services, we maintain the good health conditions of our residents while helping them with activities of daily living.
The care plans we employ at Necitas Assisted Living are based on the physical, social and cognitive needs of our residents. We tailor fit the type of care they receive from us because we understand that no two individuals have exactly the same condition and preferences. We make sure that our services are carried out thoughtfully and patiently. Our residents are also well assisted in their emotional needs. Our caregivers are trained to respond with sensitivity and respect.
Everyday is a fabulous day at Necitas Assisted Living Home. Call us for inquiries - 202-413-2209.